A dental implant is an artificial replacement for the root of a missing tooth which fuses to the top or bottom jaw-bone. A false tooth (crown) is then placed over this. For dental implants in Wimbledon, Ridgway Dental offers options that balance premium service and cost.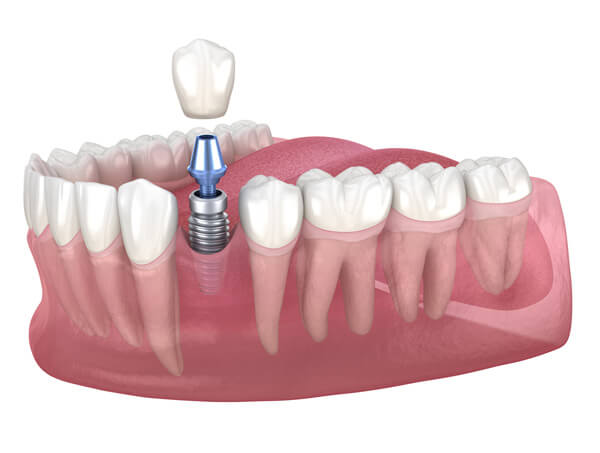 Benefits of Dental Implant Treatment
Dental implants are the gold standard for permanently replacing missing or extracted teeth. Dental Implants can be the next best thing to a natural toothand can replace a lost tooth so that it looks, feels and functions like your normal teeth.
They are in most cases a long term solution to missing teeth. They are placed into healthy bone and can last many years and even a lifetime. They still need to be looked after and cleaned well just as your natural teeth do, otherwise can lead to the need for maintenance or repair.
Dental implants will help retain your natural face shape and smile as areas of your jaw without teeth can give your face a sunken appearance.They will allow you to speak normally! Removable dentures that move in your mouth can be uncomfortable and lead to altered speech!
A dental implant will allow you to eat your favourite foods as they are fixed in the bone and therefore allow you to bite naturally.
Dental implants protect your natural teeth. Dentures and bridges often result in compromising the natural health of your surrounding teeth as the teeth either side need to be ground (drilled) away to make room for the bridges, and dentures put extra forces on surrounding teeth and compromise gum health and cleaning.
If a space is un-restored after a tooth is lost, then this can result in the surrounding and opposing teeth drifting into the space, which can cause problematic changes in your bite. You will also lose bone around the area.
Dental Implant Components
The implant – which is a titanium tube which is placed in the bone where the missing tooth is
The abutment – is a connector, connecting the dental implant to the crown
The crown – is the bit you see in the mouth – the artificial tooth which is made in a laboratory and designed to blend in with your own teeth.
Meet Our Dentist with practice limited to Oral Surgery
At Ridgway Dental we are pleased to have on our team the highly experienced dentist with practice limited to Oral Surgery, Dr Vijay Bhargava. Committed to developing implant skills, he has travelled to Lisbon to learn the All-on-4™ technique & attends courses updating his knowledge regularly.
Vijay currently teaches oral surgery at King's College London, and performs oral surgery for Kingston Hospital. He is experienced in working in private practice and currently helps at Ridgway by placing implants and completing complicated oral surgery procedures.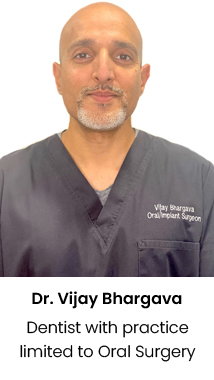 Book an appointment with Dr Bhargava to see if dental implants could be your perfect solution.
Dental Implants FAQs
How long does treatment take?
The placement and restoration of a dental implant usually takes between six weeks – six months depending on the health of the gums and bone. At the consultation appointment Dr Vijay Bhargava will give a more accurate estimation of time using his clinical expertise and dental imaging, either taken at Ridgway Dental in Wimbledon village, Parkside Hospital in Wimbledon or CT Dent in Central London.
Is dental implant placement painful?
Most implant procedures are carried out under the same local anaesthetic as you would have for a filling, which most of our patients find is comfortable. If you wish we also offer sedation to make you more relaxed. After you dental implant in Wimbledon, we would expect some minor bruising and swelling, and normally over the counter pain killers are sufficient to stop the pain. We pride ourselves on our customer service and we will always be contactable after the procedure to answer any questions you may have or to see you at the practice if you have any problems.
Can I eat after the dental implant is placed?
Yes, after the procedure once the anaesthetic has worn off you should be able to eat and drink normally although the implant area may be a little sore.
How much does a dental implant cost?
The cost is dependent on the amount and quality of bone that you have but if everything is healthy then the cost will be approximately £2500.
Where can I get more information about dental implants?
The Association of Dental Implantology (UK) provides a lot of information on implants and the following link is to the section of their site that provides answers for frequent patient questions. However, if you would prefer to speak to us directly to have your questions answered then please contact us for a dental implant consultation. Association of Dental Implantology.