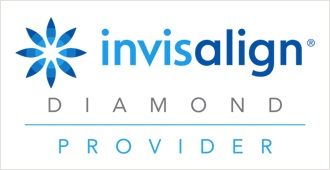 Invisalign® is an easy, discreet, pain-free and time efficient path to your new smile.
Invisalign is a teeth straightening (orthodontic) treatment that uses incredibly discreet clear aligners that fit over the teeth (rather similar to teeth whitening trays) which gradually move your teeth into their desired position. Invisalign is the most popular orthodontic treatment in the world with over 10 million completed cases from over 100 countries.
Why choose Invisalign over traditional metal braces?
For many people – especially adults – the idea of wearing easily noticed metal "train track" braces for a year or more is incredibly off-putting. This reluctance has led many people to avoid taking action to correct poorly aligned teeth, even though doing so would improve their health, appearance and self-confidence.
Or at least that's what used to happen – these days both adults and teenagers are able to take advantage of Invisalign's clear aligner technology and get straight teeth and a beautiful smile without others noticing.
Benefits of Invisalign
Discreet – your new clear aligners will be almost invisible when worn
Comfortable – every set of aligners is custom-created just for you (and your dentist is on hand to make any further adjustments as needed)
Removable – your invisible aligners can be removed for easy cleaning and meals – meaning you can eat whatever you like
Fast-acting – Invisalign aligners can often produce results faster than traditional braces
Proven – as the world's leading clear aligner technology, Invisalign has been thoroughly proven in millions of cases worldwide
Diamond Elite Invisalign Provider 2023
Want to learn more?
Book
a consultation
with
our Orthodontist
At your consultation
Discuss any concerns you have
Go through your suitable treatment options
Run through treatment fees and/or finance options
Agree on a treatment plan
0% FINANCE OPTIONS
Affordable
Invisalign Braces
treatment with
pay monthly options
The iTero Scanner
Say "goodbye" to old-fashioned, messy dental putty impressions!
When you visit us for your free Invisalign consultation, we'll use our cutting-edge iTero scanner to create a 3D digital image of your teeth that you can see in real time – and with no need for X-rays or biting into gooey dental impression trays!
Using this scan, we can map out all the required movements of your teeth and create a personal treatment plan that will project your Invisalign journey over the coming months.
Even better, we'll be able to show you a visualisation of your aligner treatment from start to finish so you can see how your teeth will look once your treatment is complete, all before treatment starts.
The Invisalign Journey
1

Initial Consultation

Join us for an in-person consultation where we can answer your questions and advise you if Invisalign would be a good option for you

2

Digital Scan

Using our state-of-the-art iTero scanner, we'll take a quick, safe scan of your teeth to provide us with the information we need to create your treatment plan

3

Clincheck

We'll use your digital scan to map out the proposed movement of your teeth and show you an animation of both your expected month-to-month progress and the final results

4

Fitting

Once we receive your first aligners from the Invisalign lab, we'll fit them for you and make sure they are comfortable. Small clear attachments may be added to speed up your progress.

5

Wear your Aligners

You'll wear each set of your clear aligners for 22 hours per day for 7-10 days each before moving on to the next set. Each set will move your teeth closer to their final positions.

6

Monitoring

Both you and your dentist will be able to monitor your progress closely thanks to Invisalign Itero's convenient digital monitoring system in the dental practice.

7

Complete

After you finish your last set of aligners, your beautiful new smile will be complete. Retainers can be worn at this stage to keep your teeth straight and in place.
Invisalign FAQs
Will Invisalign help me get the smile I want?
Invisalign can help the vast majority of patients who are suffering with imperfectly positioned teeth (malocclusion), including the following issues:
Crowded teeth
Gapped teeth
Overbites
Underbites
Crossbites
Open bites
Over jets
Book a FREE consultation with us and we'll be happy to advise you on the suitability of Invisalign in your unique case.
What does Invisalign treatment include?
Free consultation
ClinCheck
Treatment plan
Clear Invisalign aligners
In-practice visits
Free Vivera retainers for when treatment is completed*
Free Teeth Whitening*
*With current Invisalign promotion – please check with us.
Interest-free Finance and monthly payment schedules are available.
How much does Invisalign in Wimbledon cost?
The price for Invisalign at Ridgway Dental depends upon the complexity of the case (more complex cases require additional sets of aligners which lengthen the treatment duration and overall cost). Costs can range from £3500 to £4500 for upper and lower teeth. Most Invisalign cases take 12-18 months to complete.