Lingual braces are a modern option for aligning crooked teeth. Using the time-tested concept behind traditional fixed braces, with the advantage of being much more discrete. Lingual braces are fixed to the inside of the teeth and thus are hardly visible at all. At our Ridgway Clinic, patients in Wimbledon may take advantage of lingual braces. Annika, our Orthodontist, is one of the leading providers of Incognito lingual braces in the UK.
What are Lingual Braces?
Lingual braces are an advanced type of braces that are fixed to the back of your teeth and are thus practically invisible to the eye. No one need know you are having orthodontic treatment.
Lingual braces have been developed primarily to solve cosmetic issues that surround highly visible braces. Traditional braces, even clear ones, can be off-putting for some people. Patients, especially adults, consider the impact on looks a big factor when deciding whether or not to undergo orthodontic treatments.
BOOK YOUR ORTHODONTIC CONSULTATION
Lingual Braces Procedure
A dentist at our clinic will first take impressions of your teeth.
We will use a high-resolution 3D scanner to create a digital impression of your teeth to assist with treatment planning. Every part of the brace down to the individual brackets are custom-made for your teeth, ensuring the best possible results.
Afterwards, a laboratory will create custom-fitted brackets for the teeth.
On the next visit, the dentist will cement the brackets on the inner side of your teeth. Just like traditional braces,the wiring and system supply constant pressure on teeth, gently easing them into their ideal position on the jaw.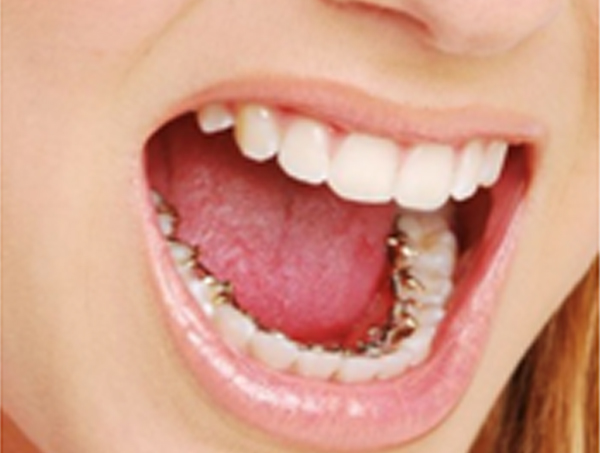 Lingual Braces FAQs
How much do Lingual braces cost?
Lingual braces in London cost around £4,000 per arch. Specialists are available to give you high quality advice on your plan and will guide you through the costs of your specific needs.
Will lingual braces effect my speech?
Lingual braces do not impact on speech as much as conventional braces can. However if there is any impact it is important to realise that it is temporary until you get used to the brace. It can also take a few days for your tongue to get used to the feeling of the brace, but because each bracket is custom made for your mouth, we are able to make them fit as well as possible.